Enjoy the Features of the Cooked Perfect® Where To Buy Tool
Our Where To Buy tool is a powerful way to find the retailer closest to a location that regularly stocks Cooked Perfect products. With your permission, the tool can access your current location to determine a zip code, the starting point for our search. You can also manually enter a zip code, a useful feature when planning a trip or helping a friend. We only use your location data to determine a zip code. We don't store any record of your location data, and we don't attempt to determine your location except when you are using our Where To Buy tool.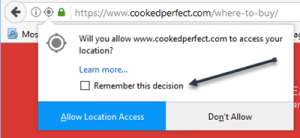 In all modern browsers, you must grant permission for us to determine your location. The nearby image shows a prompt from the Firefox browser that gives you the opportunity to allow location access, and all browsers have similar prompts. To make your next use of our Where To Buy tool a little smoother, we recommend you click the Remember this decision checkbox (if available) so you don't have to respond to this prompt each time. Whatever you decide now, it's easy to change this decision later, which we'll cover in a question below.
Our Where To Buy tool needs to know 4 pieces of information to point you to nearby retailers:
the brand you're looking for
the product your're looking for
the search radius in miles from your starting point
the US zip code from which you want to start your search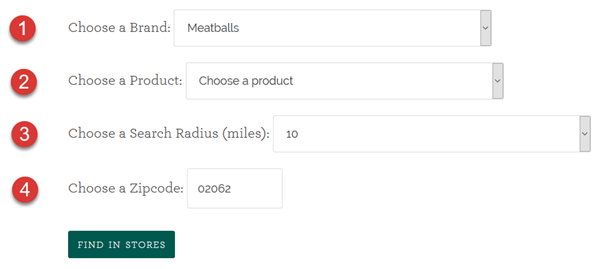 Our Cooked Perfect Meatballs, including both fully cooked frozen and fully cooked fresh meatballs, Fire Grilled Chicken, and Chicken Bites are supported by the tool. Once you select one of these brands, we'll automatically show you the products for that brand. For products offered in multiple bag sizes, we'll show you the available size options. But remember, a broader search for any bag size will return more results than a search for a specific bag size. If you want to locate a retailer that carries any of our Cooked Perfect products, we have an option for that too – just choose All Brands in the Choose a Brand dropdown.
To make searching easier, the search radius supports a reasonable default value of 10 miles, but you can change it to one of the options: 1, 2, 5, 15, 25, 50, 75, or 99 miles. It takes more time to search a bigger radius because we have to calculate the distance from your starting point to each store and there are likely to be more stores in a bigger radius. To minimize the time it takes to deliver results, we deliver at most 25 results for each search.
Once you've entered the basics of what you're looking for, we'll return up to 25 results, starting with the retailer closest to your search location. Here are the results of a search starting in Norwood, Massachusetts, the place we call home.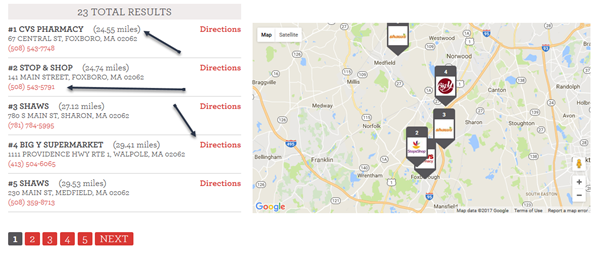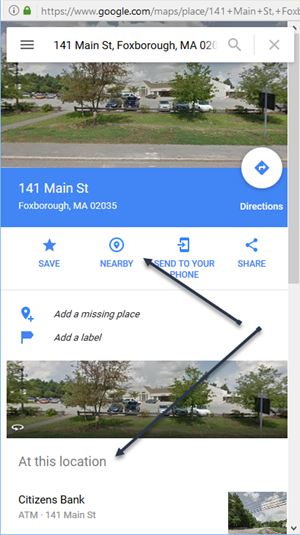 There's a lot going on in the screenshot above, so let's make note of a few highlights. Each map pin is numbered and corresponds to the list of stores. To help you recognize familiar retailers, we include the retailer's logo on the map pin whenever possible.
For each retailer, we calculate a distance in miles from your search zip code to the store. Since we can't know which route you'll choose to travel, we calculate the distance based on a straight line between the 2 points. For more information on directions to each store, we have a clickable link that will show an over-the-road route and provide information on other travel options. You can also choose to send the directions to your mobile device.
Speaking of mobile devices, each store's phone number is a clickable link. This will automatically set up the number for phone dialing in case you need to call the store for more information.
We use Google Maps to present store location information, so you have access to all of the useful features that come with Google Maps. For example, if you click on the Directions link to a particular store and then click on the map pin for the store's location, you'll see a wealth of additional information, such as other businesses at or near the same location.
Ready to find the nearest location to buy your favorite Cooked Perfect product? Just give our Where To Buy tool a spin!
Common Questions
Can I change whether or not I share my location information?
Absolutely, you can change your preference at any time, no matter what you selected the first time. The exact steps will vary from browser to browser. The screenshot below shows you how to access the setting in Firefox. Simply click on the information circle for our site in your browser's address bar and adjust the permissions as you see fit.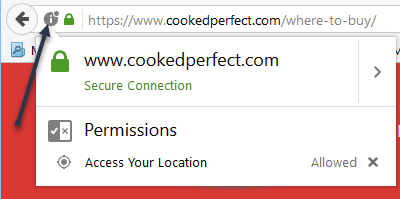 Apple mobile devices will prompt you each time to allow access to location data when using a browser on that device. You can manage your general access to location information by opening the iOS Settings app and clicking on Privacy->Location Services.
Are online search results always available?
Unfortunately, while online search results are almost always available, we suspend searches during short periods to perform database maintenance. Keeping track of which products are currently sold in each store location across the country involves processing a lot of information, and we do our best to keep this information as fresh as possible. For those times when online search results aren't available, take a look at retailers who stock Cooked Perfect products to find your favorite store.
Go back to top